Wolf Block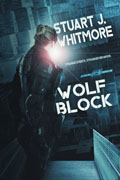 Strange behavior among the prisoners is only the beginning.
Bunierti Kittran is a rich young woman who enlisted to serve her government and honorably complete her duty to society. She looks down on those who use the influence of their wealthy families to bypass the discomforts of being an Upholder, although she is not happy that she must tolerate people from the lower economic classes who often have little more to look forward to than a hot meal and a safe place to sleep. It is a disappointment but no surprise that her roommate does not share her wealthy background.
The many rumors from prison sector W84-88D, "Wolf Block," are also no surprise, but she dismisses the notion that the prisoners there have a secret conspiracy or special powers. However, she does not expect to be wrapped up in the mystery when the enigmatic prisoners of Wolf Block take a special interest in her.
This is a short story of approximately 9750 words. It was originally written for a novelette contest on Reddit. After the contest, revisions were made based on feedback from readers. The story has now been released under the Creative Commons: Attribution-ShareAlike open license. This means, among other things, that you are free to share copies of it with others.
---
Get your copy
You can get the e-book edition of Wolf Block for free, or you can contribute to my coffee fund by paying 99 cents for it, depending on where you get it. Most links below lead to sites where you can get a free copy of Wolf Block as an e-book.
Newsletter
Grab a free copy via BookFunnel and you'll be able to subscribe to my newsletter too. That's optional (opt-in, not opt-out), so you can add Wolf Block to your BookFunnel library without subscribing if that is what you prefer.
Retailers
Spanish Edition
Hablas español? Puedes leer la edición en español, Bloque Lobo.